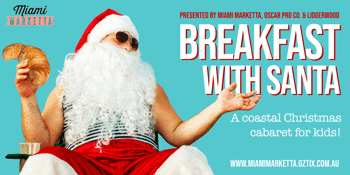 Presented by Miami Marketta, Oscar Pro Co. & Lidgerwood
Breakfast with Santa (SUN 9:30)
Miami Marketta, Gold Coast (Miami, QLD)
Sunday, 13 December 2020 9:30 am
Santa is cruising in for breakfast at Miami Marketta.

Join the Marketta family as we throw a party for families to celebrate Christmas on the Gold Coast. Book a table and witness a fun filled stage show full of swinging Christmas carols, comedy, circus, dance and more.

Put on your fun festive party frock and join in this Christmas cabaret for kids.

With Santas usual helpers stuck in COVID quarantine, Marketta has recruited some mischievous local elves to help out. In this high-energy show, you and Santa will get to witness this local mob audition and see if they have the skills to deliver on Christmas 2020.

Marketta food vendors have an array of breakfast options for you to purchase breaky and enjoy a morning out.

After the show, gather your family for a styled photo with Santa.

This performance has been created for Marketta by the highly acclaimed Oscar Production Company. Their headlining cabaret shows at the Powerhouse, Tivoli and Brisbane Festival include Boy Girl, Oscar Carols and Street Serenades.