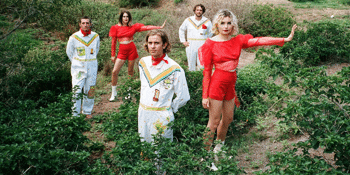 Miami Marketta presents
Nice Biscuit & The Oogars
Miami Marketta, Gold Coast (Miami, QLD)
Friday, 18 September 2020 6:00 pm
Join Nice Biscuit to experience the prismatic & psychedelic live show in their first Gold Coast show for 2020!

Expect a colourful sonic and visual show featuring out of this world costumes and a genre bending repertoire of songs spanning from their debut album Digital Mountain as well as old favourites and brand new tracks.

Electrifying and cinematic, Nice Biscuit is Australia's newest DIY psych-garage export, an intergalactic six-piece fronted by two ethereal, time travelling space kittens.

Nice Biscuit made their debut in 2016, in a horse stable somewhere in the tiny town of Mullumbimby. They spent the rest of 2016 expanding their psych-folk reach in Brisbane, and quickly gained a reputation for their kaleidoscopic live shows.

In late 2018, Nice Biscuit released their debut album, Digital Mountain. Recorded in the rural Queensland town of Boonah with Alistar Richardson (Zefereli, Clea, The Cairos), the washed out psychedelia of the recording explores the Brisbane sextet's love of sounds both vintage and contemporary. Digital Mountain delves into Krautrock, garage and surf rock, but the sound is pure Biscuit — lush, technicolour and out of this world.