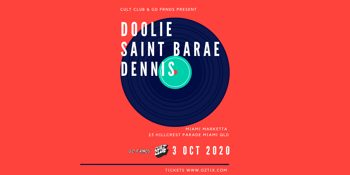 Cult Club & GD FRNDS presents
DOOLIE + Saint Barae + Dennis
Miami Marketta, Gold Coast (Miami, QLD)
Saturday, 3 October 2020 6:30 pm
DOOLIE
Blending pop, R&B and electronica, on-the-rise 21 year-old Gold Coast singer-songwriter DOOLIE (Doolie Shadforth) is riding high after an extraordinary 2018 featuring on releases from Paces ('Don't Run') and POOLCLVB ('Freefall').

Saint Barae
He's the sound of a neon lit street at the stroke of midnight. Something classic made new. Something delicate, yet exhilarating.

Dennis
DENNIS. is the solo project of Australian singer/songwriter Olivia. Inspired by the likes of Wafia, Owl Eyes and Broods, DENNIS. combines her love for grooves that swagger and effortless vocals with relatable melodies, inviting listeners into an electronic indie pop party.