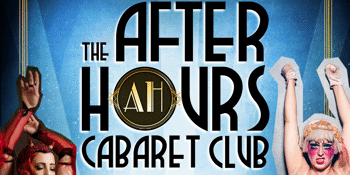 Miami Marketta presents
The After Hours Cabaret Club
Miami Marketta, Gold Coast (Miami, QLD)
Friday, 19 October 2018 7:00 PM
Welcome to the After Hours Cabaret Club. We've enough sass, charm and decadence to power a moonshine distillery... Where the hottest burlesque, cabaret, sideshow & circus stars let loose after working their glamorous shows all over town. It's scandalously sophisticated, deliciously debauched and wildly unpredictable! H
osted by power house cabaret star Tash York, this

world class,
award-winning cast hand-picked from the darkest corners of Australia alongside our five-piece live jazz band will transport you back in time.
Witness the creme-de-la-creme of the carnie world do things you've never seen before, and may never see again.
Remember, anything goes After Hours...
This is a show not to be missed'
'Burlesque and cabaret at its best'
⭐⭐⭐⭐⭐
- Weekend Notes
​
'Wildy Entertaining'
⭐⭐⭐⭐ 1/2
- Beat Magazine
'Scandalous'
⭐⭐⭐⭐ 1/2
- Hugging Comedians
'Needs to be seen to be believed'
⭐⭐⭐⭐
- Theatre people

'Smorgasbord of talent'
⭐⭐⭐⭐
- Fritz Magazine

'In the words of one of the (many cheering) audience, this was the best live show he's ever seen.
- The Plus Ones
​
'It is nothing like I've ever experienced and I absolutely and positively cannot wait to go again'
'These acts blew our minds. They were hot, they were titillating, they were sassy and at times hilarious'
- Life Loves & Liz

'Debaucherously bawdy fun'
- Pop Culture-y
'Bettie Bombshell left the audience wanting more'
- Weekendnotes

'There's a new contender for the best all round Cabaret show in Melbourne and it's the 'After Hours Cabaret Club'
- 3 Fates Media

'This one show stands out for being SO MUCH FUN'
- The Plus Ones

'A fantastic show'
'Rambunctious and bawdy'
- Pop Culture-y
​