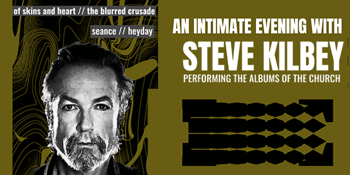 East West Presents & Empire Touring presents
Steve Kilbey - The Songs Of The Church (EARLY SHOW)
Steve Kilbey to play iconic albums in full
Miami Marketta, Gold Coast (Miami, QLD)
Thursday, 10 December 2020 6:00 pm
Steve Kilbey, enigmatic leader of The Church, will play 4 iconic Church albums acoustically, in their entirety, for the first time ever in QLD.
Including witty asides and charming little reminiscences.

Hear these songs stripped down to their basic essence the way God intended 'em to be.

These shows will have two sessions - Please ensure you purchase the correct ticket for the seating you wish to attend.:

An Early seating: 6:00pm - 8:00pm
Steve will perform the albums 'Of Skins and Heart' and 'The Blurred Crusade'

Late seating: 8:30pm - 10:30pm
Steve will perform the albums 'Seance' and 'Heyday'


Of Skins and Heart
1981 Australian release
"For a Moment We're Strangers"
"Chrome Injury"
"The Unguarded Moment"
"Memories in Future Tense"
"Bel-Air"
"Is This Where You Live"
"She Never Said"
"Fighter Pilot...Korean War"
"Don't Open the Door to Strangers"

The Blurred Crusade
1982 Australian release
"Almost With You"
"When You Were Mine"
"Field of Mars"
"An Interlude"
"Secret Corners"
"Just for You"
"A Fire Burns"
"To Be in Your Eyes"
"You Took"
"Don't Look Back"

Seance
1983 Australian release
"Fly"
"One Day"
"Electric"
"It's No Reason"
"Travel by Thought"
"Disappear?"
"Electric Lash"
"Now I Wonder Why"
"Dropping Names"
"It Doesn't Change"
"Someone Special"
"Autumn Soon"

Heyday
1985 Australian release
"Myrrh"
"Tristesse"
"Already Yesterday"
"Columbus"
"Happy Hunting Ground"
"As You Will"
"Tantalized"
"Disenchanted"
"Night Of Light"
"Youth Worshipper"
"Roman"
"The View"
"Trance Ending"