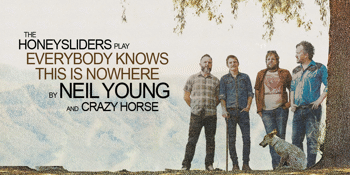 Futurfonic Records presents
CANCELLED - The Honey Sliders play Neil Young's 'Everybody Knows This is Nowhere' live in its entirety.
with Special Guests
Miami Marketta, Gold Coast (Miami, QLD)
Friday, 5 June 2020 6:00 PM
Presented by Futurfonic Records
The Honey Sliders play Neil Young's second solo album 'Everybody Knows This is Nowhere' Live in its Entirety!
Tickets $30 + bf presale or $35 on the door.
'Everybody Knows This is Nowhere' was Neil Young's second solo album and his first with the now legendary hard rocking band Crazy Horse. The album features the songs 'Cinnamon Girl', 'Down by the River', 'Cowgirl in the Sand' and many more. Released in 1969, the album didn't gain traction on the charts until 1970 and so it is that The Honey Sliders have chosen the year 2020 to celebrate this iconic album by playing it live it its entirety, followed by a set of their favourite Neil Young songs.
The Honey Sliders have been wowing their audiences with these concept shows every year since they formed in 2013. Their first concept show was a rendition of Jimi Hendrix's sophomore classic 'Axis: Bold as Love' and due to that success, they have followed on with the concept every year with the albums 'The Last Waltz' by The Band, The Beatles' 'Abbey Road', 'Sticky Fingers' and 'Let it Bleed' by the Stones and more. They've enjoyed sharing the stage with a wide range of guest singers such as, Bernard Fanning, Troy Cassar-Daley, Tim Rogers, Jeff Lang, The Gin Club, The Wilson Pickers, Tim Steward and many more.
The Honey Sliders feature Danny Widdicombe on guitar and vocals. Danny has had three ARIA Award nominations, toured the world with his songs, has played lead guitar for Bernard Fanning, Tim Rogers and many others, and is also a session musician and songwriter; Dan Mansfield who is one of Australia's most in demand Hammond organ exponents; Chris Bosley who has played bass on Bernard Fanning's incredibly successful solo album Tea and Sympathy as well as touring the world with The Resin Dogs; and Ben Carstens who plays in the band Mexico City as well as on countless albums as a session drummer.