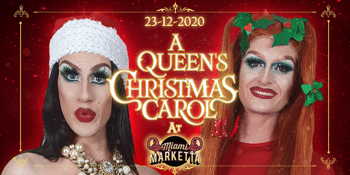 Drag Queen Bingo present
A Queen's Christmas Carol (6.30 Start)
Natasha St. James, Dixie Wrecked & Kora Kurvacious
Miami Marketta, Gold Coast (Miami, QLD)
Wednesday, 23 December 2020 6:30 PM
Drag Bingo GC proudly presents, A Queen's Christmas Carol.

Get into the holiday spirit with Natasha St. James, Dixie Wrecked & Kora Kurvacious at this special Christmas event. Enjoy live Christmas Carols sung by 'Mates Rates' Barbershop quartet, a few rounds of Bingo, and holiday inspired performances by your queens. More special guests will be announced.

Doors open at 6:30 pm, show starts at 7:00 pm - 9:00 pm.

MA +15 event

Limited tickets available, get them before they are sold out.