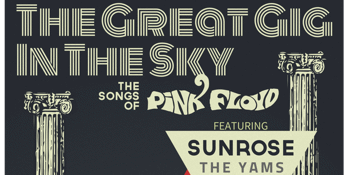 Miami Marketta presents
The Great Gig in the Sky the songs of Pink Floyd
with SUNROSE, The Yams, Free the Genie and Space Blister and the Marble Odyssey
Miami Marketta, Gold Coast (Miami, QLD)
Friday, 27 July 2018 7:00 PM
For the love of PINK FLOYD..
These INCREDIBLE artist will pay respect to the almighty Pink Floyd.

SUNROSE
Sunrose are a four-piece band, based in the hills of Byron Bay, who create timeless psychedelic rock/pop. A sound bathed in sunshine and salt water, with melodies that take you day dreaming through the clouds and grooves that you can't help but move to. Sunrose recreate their lifestyle of ocean & nature into a sonic swirl of haunting vocals, grooved out rhythms and harmonic undulations swimming in vibrato and delay.

THE YAMS
The Yams' is a triage of Gold Coast musicians creating a foundation for the pure enjoyment of the improvised jamming experience.
Known previously as The Ondre Davis Experience.

FREE THE GENIE
Psychedelic groove formulated and performed by two gentlemen and their robot drummer. The future backpacking through the past.
Elements of acid funk, disco, psych rock, indie, RnB and spontaneity are the foundation of Free The Genie's unique and identifiable sound.

SPACE BLISTER and the MARBLE OYDSSEY
Something for the senses that needs to be experienced.