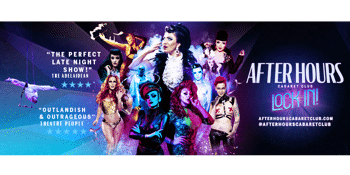 Miami Marketta presents
After Hours Cabaret "Lock In"
with Special Guests
Miami Marketta, Gold Coast (Miami, QLD)
Saturday, 25 April 2020 7:30 pm
Well look who's stumbled in...
Welcome to the After Hours Cabaret Club!
We've enough sass, charm and decadence to power a moonshine distillery.

See the hottest Burlesque, Cabaret, Sideshow & circus stars let loose after working their glamorous shows all over town. It's scandalously sophisticated, deliciously debauched and wildly unpredictable! Hosted by power house cabaret star Tash York, this world class, award-winning cast hand-picked from the darkest corners of Australia alongside our five-piece live jazz band will transport you back in time.

Witness the 'best of the best', the creme-de-la-creme of the carnie world do things you've never seen before, and may never see again.

Returning to Miami Marketta this April featuring

Bettie Bombshell - Current reigning Miss Burlesque Australia
Tash York
Kelly Ann Doll
Dakota Fann'ee
5 piece band
+ more special guests!!

Remember, anything goes After Hours...