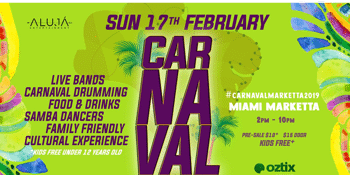 Earth Love Culture presents
Brazilian Carnaval Gold Coast
Miami Marketta, Gold Coast (Miami, QLD)
Sunday, 17 February 2019 2:00 PM
Hey Folks, Brazilian Carnaval is hitting up the Gold Coast on the 17th of February 2019.
A day where all the families can celebrate our culture together with music, dance, art, food, drinks, games and much more.
Everyone is welcome, Brazilians and non Brazilians - come along with the whole family, no age restrictions. Enjoy a taste of Brazil and it's beautiful culture - come and celebrate with us!
>>>>>ATRAÇÕES<<<<<
>>>>> LINE UP <<<<<
Footsamba
(Live Samba Circle)
XANGO CAPOEIRA - GOLD COAST
Bahia Alegria
(Samba dencers on Carnaval Costume)
Banda Terremoto
(Axe - Carnaval Music)
Mamonas AUSsassinas
(Cover)
Batukanum Drumming School
(Maracatu druming performance)
Samba Vibes
(Carnaval Druming performance)
KIDS ACTIVITIES by
ESMÊ Creation
Gincanas (camp activities)
Brincadeiras tradicionais (kids folkloric activities)
Danca e musica recreativa (dance and music)
Workshop
E muito mais. (Much More)