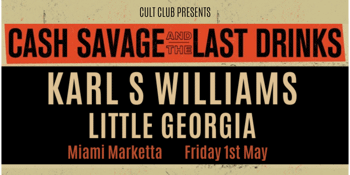 Cult Club presents
CANCELLED - Cash Savage and The Last Drinks
Karl S Williams and Little Georgia
Miami Marketta, Gold Coast (Miami, QLD)
Friday, 1 May 2020 6:00 PM
CASH SAVAGE and the LAST DRINKS
Cash was seemingly quite destined for musical stardom, primed from an early stage with uncle Conway Savage playing key's in Nick Caves Bad Seeds. She first hit the stage solo around Melbourne at 17, The Last Drinks were formed in 2009 and played gigs around there spiritual home of Fitzroy. The first studio release, Wolf 2010 followed by The Hypnotiser 2013.
One of Us released 2016 gave us songs that are highly reflective of a tumultuous personal period for Savage, this album was widely acclaimed taking the band abroad to play festivals in Europe.
In 2017, we were fortunate enough to have them along to
Dashville Skyline
, who could forget their incredible thumping on-stage presence. Playing songs from the spicy morsel that is Good Citizens, the album of 2018. Like next level generational kinda stuff, with powerful songs like Pack Animals, Better Than That and Sunday.
KARL S WILLIAMS
​​​​​​
Karl S. Williams emerged from the cane country of Northern New South Wales, steeped in swamp water and primitive music. His songs are a distillation of life, love and the human condition; a kind of folk, soul, blues but not as you know it. With a weaponised voice that can soar, moan and ache with the best of them, he writes timeless music, rooted in tradition but also firmly conversant with the present. Whether solo or with his incandescent band, a Karl S. Williams show is frequently referred to as a spiritual experience - delivered with a visceral conviction that leaves audiences profoundly moved.
LITTLE GEORGIA
Coming off the back of an array of band shows and festival staged folk rock duo Little Georgia are taking us back to their roots with the announcment of their latest tour "THROUGH THE PAST".
Collaborators Ashleigh Mannix and Justin Carter will be heading out on the road during April and May with a run of intimate duo and band shows along the East Coast.