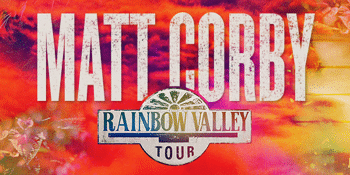 Live Nation and triple j presents
Matt Corby
with Eliott + Blessed
Miami Marketta, Gold Coast (Miami, QLD)
Sunday, 7 April 2019 3:30 PM
Due to the closure of the NightQuarter Gold Coast, the Matt Corby show scheduled to take place on Saturday the 6th of April will now go ahead at Miami Marketta on Sunday the 7th of April.
Patrons under the age of 18, or unable to attend the rescheduled show will need to contact Oztix to arrange a refund prior to Thursday 31st of January
Email - info@oztix.com.au.

For complete tour, ticket and information, visit: https://www.livenation.com.au/artist/matt-corby-tickets

Matt and his band will play songs from the new album 'Rainbow Valley' to Australian audiences for the first time since his headline Telluric Tour in 2016, which sold 80k tickets worldwide.

For a decade, the multi-platinum-selling musician has been pushing his own boundaries, embracing a journey of self-discovery that's seen him wrestle a few pre-conceptions and stare down his share of demons.
With two ARIA Song of the Year awards and a #1 debut album behind him, Corby can genuinely lay claim to some hard-earned perspective.

Now we see a new chapter in Corby's life with the release of his much anticipated second album.

Recorded in the idyllic surroundings of Byron Bay's Music Farm studios, Rainbow Valley is Matt's latest release.

Lush, multi-textured and sparked by hints of both old soul and futuristic psychedelia, Rainbow Valley is, in Corby's words "joyous music", but it also has the depth and perspective of an artist who understands you can't just take the good times for granted, you have to earn them. The sparkling first single No Ordinary Life, and the bare-bones ballad All Fired Up and current single All That I See have received widespread acclaim and give fans a taste of what to expect on Corby's stunning new album.