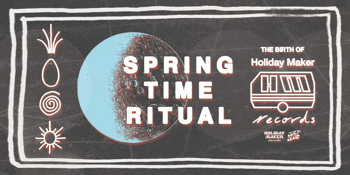 Holiday Maker & Cult Club presents
SPRINGTIME RITUAL: The Birth of Holiday Maker Records
Miami Marketta, Gold Coast (Miami, QLD)
Friday, 30 October 2020 5:00 pm
Due to the current Qld Health Direction issued by the Chief Health Officer, these events are limited capacity and seated.
As Health directives are relaxed by the QLD Health authorities, the venue reserves the right to increase capacity and amend the offering of allocated seating without notice.

Spring Time Ritual marks the official launch of Holiday Maker Records and will introduce their family of artists with ceremonial performances for the full blue moon of Halloween eve. Holiday Maker Records is a new artist-run independent record label formed on the Gold Coast.