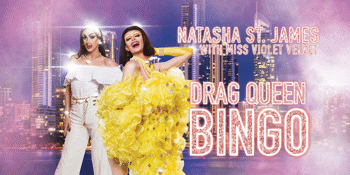 Drag Queen Bingo
Drag Queen Bingo Oct 21st - 6pm
Natasha St James & Miss Violet Velvet
Miami Marketta, Gold Coast (Miami, QLD)
Wednesday, 21 October 2020 6:00 pm
Natasha St. James & Violet Velvet for another fabulous night of BINGO!
To abide by government regulations, we will have two seperate one hour and a half shows, with three games of BINGO and three performances!
Grab your friends, and book an exclusive table of two or four. Be ready for a night of laughs and excellent entertainment.
We can't wait to see you as we have missed you so much, so get your tickets now!
This is an MA-15 event.