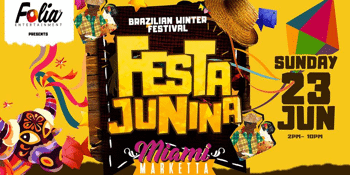 FOLIA's Entertainment Presents - Festa Junina 2019
Festa Junina
Miami Marketta, Gold Coast (Miami, QLD)
Sunday, 23 June 2019 2:00 pm
FOLIA's Entertainment Presents;
Festa Junina 2019 - Brazilian Winter Festival at Miami Marketta
Festa Junina or June Festival, also known as the festa de São João are celebrated during the month of June nationwide in Brazil.
As Northeastern Brazil is largely arid or semi-arid these festivals not only coincide with the end of the rainy seasons of most states in the northeast but they also provide the people with an opportunity to celebrate the rain season. They also celebrate rural life and feature typical clothing, food, dance (particularly quadrilha, which is similar to square dancing).
We are very Happy and Proud to be able to bring this amazing cultural event to the Gold Coast Australia, in partner with the Brazilian community we can deliver a very traditional event.
The day will be fulfilled with many food stalls cooking delicious traditional food, typical drinks at the bar along with many street performances and live music as well as kids activities and traditional games featuring a mechanical bull ride.
It's a FAMILY EVENT so bring your kids to have a fun day with us.
For more infos please check out the Facebook event page at: Festa Junina 2019 - Miami Marketta
See you there!
Obrigado!